The Little Missouri River begins in western Arkansas southeast of Mena, flowing freely through the Ouachita Mountains and scenic areas of the Ouachita National Forest that include the Little Missouri Falls and Albert Pike recreation areas.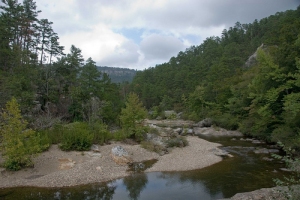 Some six miles north of Murfreesboro, Narrows Dam impounds its waters to form Lake Greeson. Below Greeson, the river flows past Murfreesboro before proceeding southeast to its mouth in the lower Ouachita River. About three miles south of Murfreesboro, the river passes beside Crater of Diamonds State Park, the world''s only site where the public can search for diamonds where they naturally occur and keep their finds.
Below Lake Greeson, the river is best known among anglers as the southernmost stocking point in the entire United States for rainbow trout. In fact, 87,660 rainbow trout are scheduled to be released by the end of the year. An abundance of bass, catfish, and bream can be found in the warmer waters below the rainbow trout stocking points.